Study Abroad Checklists and Packing Lists
If you love a good checklist or just want to get an idea of what's involved to study abroad, these checklists have got you covered.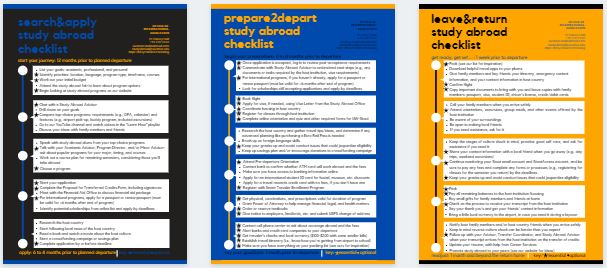 The
Search&Apply Checklist
takes you from the very start of your journey (around 12 months before you would like to study abroad) to the point of submitting your application on our website (around 6 to 4 months before you would depart).
The
Prepare2Depart Checklist
picks up just after you have applied and been accepted (typically 6 to 4 months prior to departure) and brings you all the way up to the final days of preparation (1 month before you get on that plane).
The
Leave&Return Checklist
covers all the rest - the last week of packing, the rollercoaster of arriving and settling in, and the inevitable return and readjustment. Speaking of packing, the
Study Abroad Packing List
provides suggestions for your carry on and suitcase - whether going on a short term or long term program.
(If you want 'em all, you can download all the lists
here
.)