Faculty-led Programs



2018-19 Faculty-led Proposal Applications COMING SOON!

THE INFORMATION ON THIS SITE IS UNDER CONSTRUCTION

Faculty-led programs are credit bearing academic offerings that are initiated, organized and conducted off-campus by UW-Stout faculty, staff or Professor Emeriti.

These programs are a critical component towards achieving an array of education abroad opportunities that encompass experiential, innovative, and career-focused learning for the UW-Stout community. Customized educational opportunities allow for rigorous, program-specific academic offerings to be conducted in supportive off-campus environments for students. A strong set of faculty-led program offerings allows for a larger variety of students to take part in global education experiences that advance their intercultural competencies, team-building, leadership and soft skills. These skills are highly desirable to employers and increases students' career success. See IIE's kkdfdkfj for more information.

ARE YOU INTERESTED IN LEADING A PROGRAM?
The Office of International Education (OIE) has established a proposal process and compiled both resources and guidelines for those who are interested in initiating a faculty-led program. These have been prepared with consideration of UW System and UW-Stout policies, the Standards of Good Practice for Education Abroad and Standards of Good Practice for Short Term Education Abroad created by the FORUM on Education Abroad.

The purpose of the proposal and guidelines are to help faculty develop high-quality education abroad programs. It is imperative that academic programs offered off-campus maintain the standards established by the

Higher Learning Commission (HLC)

. OIE expects that individuals who initiate leading a faculty-led program will review, understand and adhere to these policies and procedures.

LET'S GET STARTED!
First, familiarize yourself with the typical cycle of faculty-led programs and what is involved at each stage. Remember we have resources to help you every step of the way!
---
Start the process by sharing your idea through informal conversations with stakeholders such as your Department Chair, College Dean and the Office of International Education. This will give you the opportunity to receive feedback while solidifying a strong and sustainable program foundation.
Then complete the following items to submit your proposal.

Proposals are due prior to the academic year of the program offering. We are happy to accept proposals earlier!
Summer Programs = August 1
Win-term and Spring Programs = May 30
Complete

Sign

Include

Attractive Program Overview

This will be used for marketing your program and should be written to your prospective student audience. We suggest 1-3 paragraphs.

Proposed Syllabus. Please note the following:

If this program is intended to count towards GLP credits, please review the information found on the

RES/GLP website

. If the course is not already approved as a GLP course, please provide the GLP rationale and explicitly link the course modules/outline to the GLP categories and subsections, in your syllabus. This will be reviewed for approval by the Associate Vice Chancellor, as part of the faculty-led program proposal.

An Independent Study course is not the ideal use for a faculty-led program. If you intend to offer Independent Study credits, you will need to have this approved in advance through the Stout Online office.

Tentative

Itinerary

. This is required for our risk & safety plan and it will be submitted to Campus Police before your program departure and be used in case of an emergency.

We would like to see a draft of your itinerary outlining the program by indicating the following items; daily location, mode of transportation when applicable, selected accommodation, likely cultural excursions, likely industry visits, etc. Please fill out as much information on the itinerary as you can. To be determined (TBD) can be used for details that are not yet finalized.

Copy of your passport.

Route the above documents with this

Faculty-led Program Approval Form

to your Department Chair, College Dean and Director of International Education for final approval.

We will also need JPEG photos to be used for the promotion of your program. These may be sent directly to the Office of International Education at

studyabroad@uwstout.edu

.
Committee Approval
Faculty-led programs will be reviewed by a committee, and selections will be made based on a variety of factors such as competing programs, applicability to a variety of majors, Gen Ed requirements, cross-disciplinary program and affordable program cost.
Creating a Budget
Once OIE has received your completed proposal the application will go through a review process. You will then be contacted by an Education Abroad Coordinator to develop your program's detailed budget using the

Budget Template

. If you wish to meet with a Coordinator to develop your budget before submitting your proposal, you are welcome to do so. After the budget is complete, notification of program approval will be sent via email to you, your department chair and college dean.

Program Providers
UW System has mandated that specific

program providers

be used for program purchases of $5000 and above. If one of the program providers are not used, then 3 bids will need to be obtained by the faculty member and the vendor bids would need to be vetted by UW-Stout Risk Management and Purchasing.
Preliminary Logistics
---
Budget
Short-Term study abroad programs organized through OIE are all self-supporting, meaning they are 100% covered by student program fees. Therefore, all expenses for the trip must be accounted for in the program budget, in order to receive reimbursement. The program cost should allow for an affordable, high-quality program. That said, experience has shown that listing the program fee at its highest budgetary estimate is most honest and best for retention of program participants. We will use this

Budget Template

to manage all program related costs.

Student Process
It may be helpful to you to understand the

Student Process

in order

to be aware of the steps they must complete before joining your program.

Marketing and Recruitment
---
The Office of International Education will provide you with marketing resources and help facilitate opportunities to connect with prospective students. You can expect that we will create an interactive webpage and printed flyer highlighting different aspects of your program.

Example Flyer: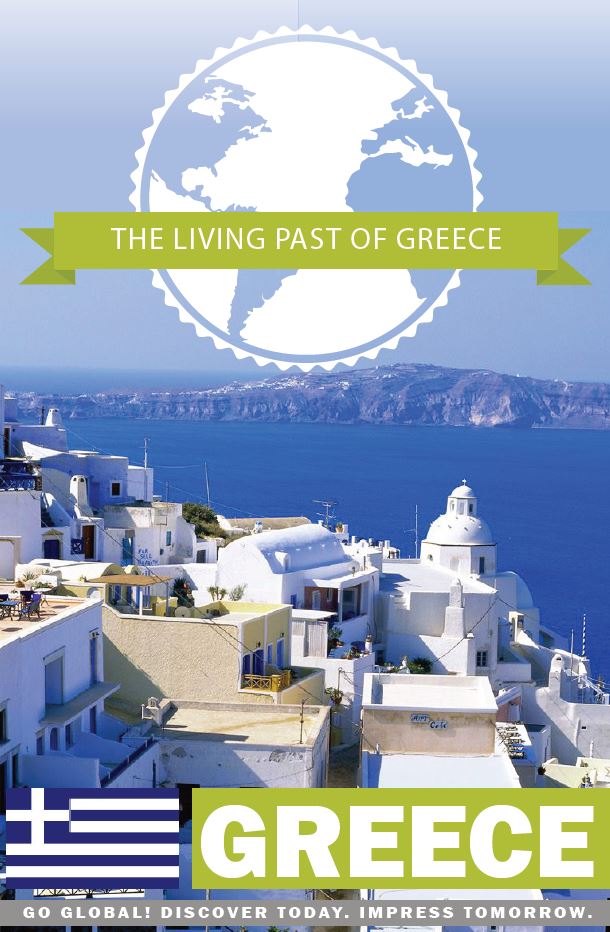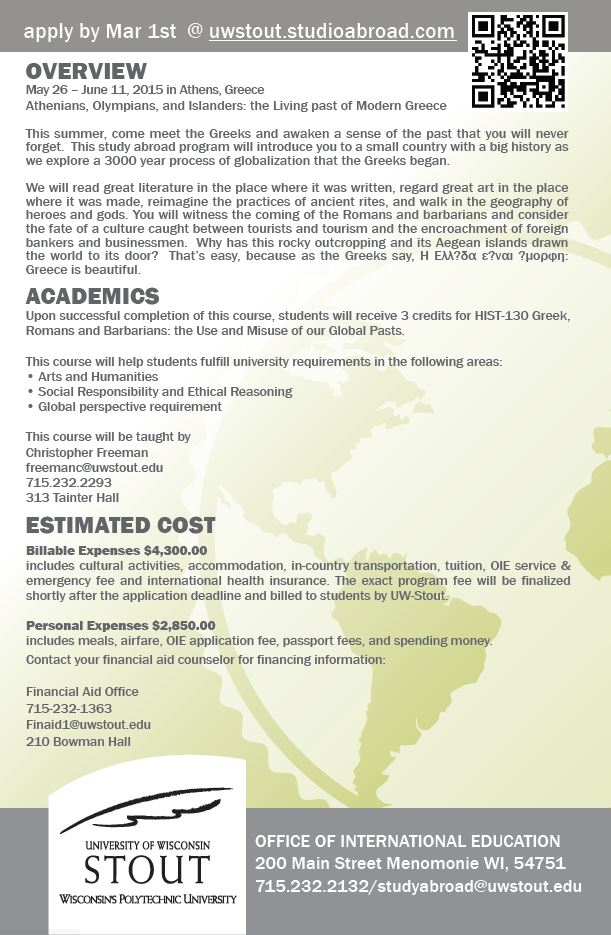 We also hold a study abroad fair during the second week of each semester. We set aside tables for each program/leader, provide printed flyers and signup sheets.
MARKETING TIPS/IDEAS
Classroom Presentations
One of the most proven ways to get students interested in study abroad programs is to bring the information to them! Many students don't know about all of the options we provide so by doing a classroom presentation, you are handing the information right to them. We suggest emailing professors of subjects relative to your program and asking to do a 5-10 minute presentation that includes all information on the course, how to apply, what's included in costs, as well as photos, videos or testimonials from past trips. You could also include general photos of the area you're traveling to.
Campus Life Today/UW-Stout Today
Submit a Campus Life Today or UW-Stout Today posting. These are very brief posts that can show up for 1-3 days in a row that can advertise either applying for the program, application deadline notifications or reminders on upcoming informational meetings or presentations.
Make a Video
This is probably the most enjoyable way to market your program – both for you and whoever is watching it. Making a video gives students a real look into what the program will be like. The video can simply include past student's testimonials, photos, video clips & information about your program. Here are a few videos that we think are awesome!
UW-Stout Education Abroad Promo - Greece: Study Abroad Summer 2015
Email Blasts
Email professors and applicable program directors of programs and let them know about your program. Have them forward the information to their students and advocate for your program in their classes. Don't forget about your colleagues at other campuses, non-stout students can participate on your program as a special student.

Informational Meetings
Hold an informational meeting about your program. You can reserve a room in the MSC and advertise through OIE & Campus Life Today to get students to come. There, you can relay information about the program, ask former students to give testimonials, share videos and photos and answer questions for students. One of our office staff can also be there to answer questions and direct students to the application.
Use OIE
The Office of International Education is a GREAT resource for marketing. We utilize our Facebook page to get the word out about our programs and can help advertise videos, photos, information sessions and general programs. We can also use our office assistants, all who have studied abroad, to advocate for studying abroad and allow students to hear about experiences from their peers.
Pre-Departure Preparations
---
Travel Authorization
Before reservations and purchases can begin for your program, you will need to complete a

travel authorization

.

You may complete this

by clicking on "E-Reimbursement," login, and then click on "Create a Travel Authorization." If you need assistance with the travel authorization contact

H

eidi Engelmann Kothrade

. You will only need to enter your costs that are covered by the program's budget. Patti Kahler can provide the correct account code to use as our office will be managing the program's budget.

Pre-departure Workshop
OIE offers a mandatory pre-departure workshop to ensure all faculty leaders are well prepared and aware of any updates before program departure. Campus representatives will come together to provide their expertise in the various areas that encompass a faculty-led program. You can expect to hear from Risk & Safety, Student Health Services, Counseling Center, UW-Stout Police, Dean of Students, Business Office, Purchasing, etc.
International Insurance
The Board of Regents, System policy (ACIS-7.1), requires all University of Wisconsin students studying/traveling abroad under a UW sponsored program to enroll in international insurance offered by

Cultural Insurance Services International (CISI)

. As a faculty leader of an international program you will be enrolled into this coverage for the duration of your program.

Reservations & Purchases
Once your students are accepted you may begin program purchases after you have completed the

Travel Authorization

(see Travel Authorization section above for details). If the purchases are not completed by the Student Billing Services due date, then the students will be billed based on the estimate established during the program approval process. OIE will make large pre-departure purchases. The smaller in-country items, such as cultural events, should be made by the faculty leader with their corporate card.
Flights: OIE will reserve and purchase flights for programs through Fox World Travel. OIE strongly suggests that faculty leaders fly with their group of students for risk management purposes. Please note: many airlines seem to be adding basic fares that do not include checked baggage. Therefore, baggage costs will be built in to the out-of-pocket costs in the student Cost Estimate.
Room and Board: The faculty leader is responsible for selecting accommodation. If you are using a program provider, you may provide OIE with an invoice for payment pre-departure or stop in the office to make the reservation with Patti Kahler.
In-Country Transportation: The faculty leader is responsible for organizing in-country transportation. Please provide OIE with an invoice if you would like us to make the purchase pre-departure i.e. train tickets, day passes, etc.
Cultural Events: The faculty leader is responsible for organizing and making these purchases. If an invoice is provided, OIE can pay for these activities ahead of time or faculty can pay on-site and be reimbursed pre-departure by submitting a TER.
Student Pre-Departure Orientation
OIE manages an online orientation for all students and covers information such as health and safety abroad, money matters, communication methods, cultural adjustment, UW-Stout and System policies, etc. As a faculty leader you will want to schedule and meet with your group to discuss specific aspects of the program such as:
Significant cultural differences

Course Details - pre or post work along with expectations during travel

Itinerary Details

Departure Plan - flight itineraries, arrival process at airport, etc.

Accommodation - roommates, locations, any included meals

Establishing Expectations - buddy system, emergency protocol, communication and transportation, any additional ground rules necessary for a successful program.
*It is reported that faculty leaders who keep in contact with students prior to departure have better retention rates, a more timely return of student paperwork and less behavioral incidents during the program. For this reason, OIE encourages faculty leaders to communicate with students frequently pre-departure.
Program Itinerary
Each program must submit a detailed program itinerary to OIE. This is shared with university police and is an imperative aspect of our risk and safety plan. We advise that this is also shared with participants and their families. For your convenience we have included an

Itinerary Template

that we like to work from. You may use your own itinerary however, the

itinerary must have the same information provided and align with the following requirements:
No specific format required but it must be typed

Faculty leaders' contact information (Cell phone, email, if you are in a remote area where cell phones may not work, please provide information on how you can be contacted in case of an emergency.

Housing (name, phone number, local address, email contact, roommate selections if needed)

All means of transportation (i.e. flight numbers, departure and arrival times, train routes, etc.)

Daily activities & times (location of your site visit, landmarks you will visit, classroom/coursework information, etc.)

Meal plans – Provide details on which meals are included and which ones are not.

Any out-of-pocket expenses the students should expect (i.e. baggage fees, Chippewa Valley Shuttle, personal expenses, extra meals, extra transportation, etc.)
Program
---
Budget Reminders
Be sure to stay within your budget for on-site expenses. As you travel, keep an expense log and document the purpose of each receipt to allow for easy reimbursement upon return.

Emergency Contacts & Incident Reporting
All faculty leaders are provided with a list of emergency contacts and an incident reporting procedure.

Campus Security Authority (CSA) Compliance
As a faculty leader of an off-campus program you are considered a Campus Security Authority (CSA) and are a mandated reporter of Clery reportable crimes. Here you may read more about the

Clery Act and Clery Reportable Crimes

. Faculty leaders will be notified via email each year of this information in addition to an on-line training. You may contact the Clery compliance staff at

clery@uwstout.edu

for any questions you may have.
All qualified incidents can be reported

here

.

Return and Review
---
Faculty leaders are required to complete and submit their

Travel Expense Reports

(TER) and complete a post trip meeting with OIE within 30 days of return.

Travel Expense Report
If you have questions about completing the TER contact

H

eidi Engelmann-Kothrade

.

Patti Kahler

can provide the correct account code to use as our office collected the student funds to cover the program costs. Keep in mind, faculty-led programs function with a cost recovery budget and are completely funded by the students. It is important to remember that only expenses in the budget can be claimed and reimbursed.

TER's submitted after 60 days will not be reimbursed.

* Experienced faculty-leaders suggest keeping an expense journal and documenting expenses each day. Don't forget to keep all needed receipts!

Post-trip Meeting
OIE will be in contact after you return from your program to set a time for a post-trip follow-up meeting. We are always striving to maintain high quality programs so we want to hear directly from you what worked and what did not. Be prepared to talk about some of these typical questions:
What was the largest success of your program?

What was the most challenging aspect of your program this year?

What would you change about your program next time?

Did you encounter any logistical challenges during the program?

Do you plan to offer the program again next year?