Home
> Faculty & Staff Resources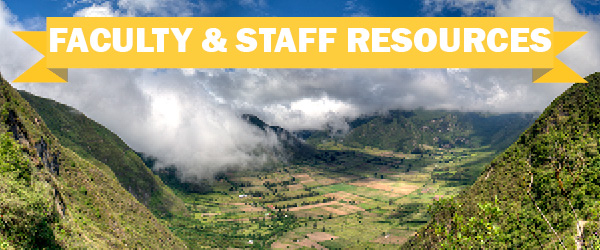 Faculty and staff who are interested in traveling with students should work with the Office of International Education on developing a sustainable program. Please set up a preliminary meeting to discuss your ideas and to learn about the application process. Please review the Booklet- Planning a Study Abroad Program Online PDF.pdf This handbook acts as a guide for all topics related to program planning and implementation.

Required Documents for Program Approval
Additional Documents for Program Planning
Budget Template

- please review this documents, and be prepared to work with OIE to complete your budget sheet.

Travel Authorization Form

- required before any program purchases can be made.

Itinerary Template.docx

- Use for program plannning in the early staes. A copy, in this format, must be submitted to OIE within one month of program departure. For safety reasons, also provide to all student participants, so they have it both on-hand and in their email.
After your program returns the following documents are required: